Juliana C Stryker
Cute Press Evory Snow Translucent Loose Powder Review
Filters are great, but great loose powders are even better!
It's definitely one of those days and that's a good thing!
Some days are full on RESCU days tending to patients, some days are all admin, going through the books and answering a never-ending queue of emails and then there are days like today!
Today's an I Love Bunny beauty blog day! Yipee!!
Here I am at my desk, super enthused, with a brand-new product that's just dropped on my lap!
Ever since their Disney collab a few years back, I've been a big fan of Cute Press for their high-quality products and it looks like I've got even more to be happy about with their new Evory Snow Translucent Loose Powder!
No matter how hard we seem to try, life seems to just get busier and busier!
Gone are the days I can spend a whole morning with a full makeup routine! Now I'm all about the quickest and easiest routine that's going to deliver the best beauty bang for my buck and with that in mind, my current vote is going to Cute Press' Evory Snow Translucent Loose Powder!
This miracle dust is like applying a real-life filter to your face!
Talc-free, silicone-free and parabens-free, the powder is weightless and comfortable, controls oil, but most importantly, it features invisible snow flex and pearl pigments to blur pores and skin imperfections to give your skin a natural and healthy glow.
It comes as a traditional powder jar puff box (15g, $20.90) for when you have more time to get ready or a super innovative portable loose powder tube (4.5g, $22.90) for days when you're on the go!
Think along the lines of a fountain ink pen, feeding ink into a pen nib and you have a rough idea of what to expect, a nifty little device feeding the miracle loose powder into an applicator brush that you can use to touch up your look wherever you are! Psst! It's refillable as well!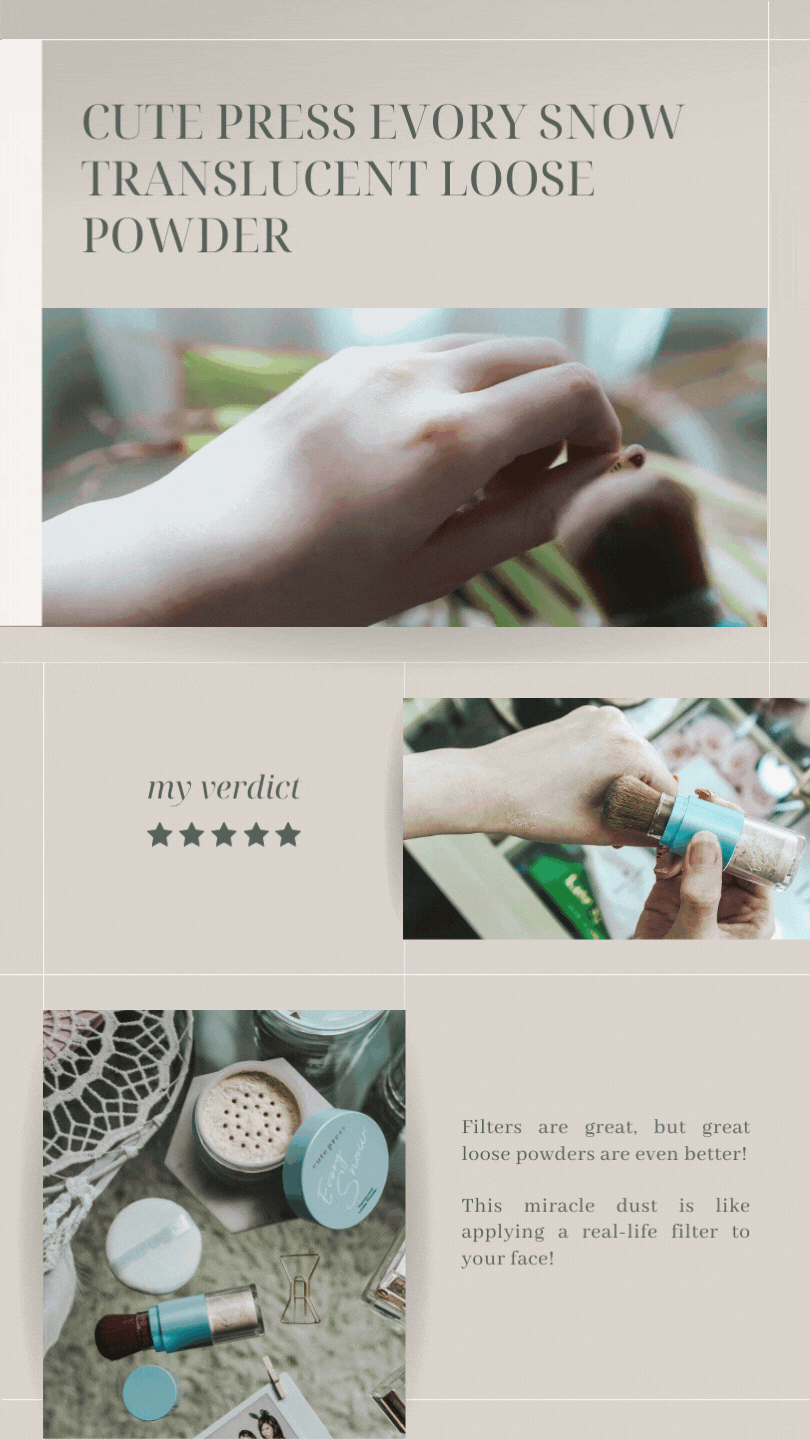 Glowing skin is great but skin that is shinier than an heavily oiled cast iron pan isn't. 😅
Here's a screengrab from my latest 'A Day in my Life' Youtube video to give you an idea of how shiny my skin can get as the day progresses.
I usually find it cumbersome to touch up my makeup when I'm out and about - compact powder tends to cake up my makeup and applying loose powder with a separate brush can be a pretty messy affair.
This 2-in-1 handy loose powder tube solves these problems as it's easy to apply and to carry around with me. A huge bonus is definitely its 8-hour staying power so my skin can stay matte for a longer time.
This powder is a great accompaniment to your foundation and I found it worked a treat to conceal my oversized pores as you can see in my before and after pics!
On busier days where I want to keep it simple and add some much-needed solar protection at the same time, I use Cute Press' Tone Up Sunscreen SPF50+ PA++ which features a beautiful tint, for a great, complete and super quick way to create a day-ready look!
If you're a fan of Cute Press too and in the mood for some Evory Snow, check out the links below for their respective product pages!
Happy shopping!
Psst! Use discount code: CUTEEVS10 for a whopping 10% off!
Thank you Cute Press for the glow up!
Your friend,
Juliana
Disclaimer: Please rest assured that even though this post was created in partnership with Cute Press, it does not have any bearing on the content of this post. Opinions stated are objective and genuine. Also note that all sources, information, content, links are valid to change at any time.